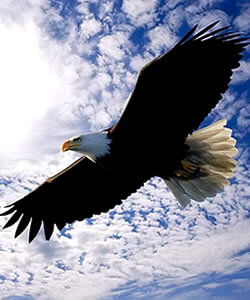 In the story, the Garud is the mystical Eagle who appears to central character Padmini to warn her of the approaching apocalypse and the end of the world. In the Marathi language, the word for 'Eagle' is 'Garud'. Both words, 'Garud' and 'Eagle' have interesting legends woven around them.
The Eagle is known of course as the king of birds, so elevated, it is said that he will not eat a dead prey, but hunt his own kill before eating it. More folklore: an eagle will always soar above a storm. And then, he is the only bird apparently, that can look directly into the sun.
The Garud in India mythology is the vehicle of Lord Vishnu. He is also in traditional lore, the messenger between Gods and men. In the fictional story The Garud Prophecies, Sitara's story the Garud is also a messenger, conveying a mystic message
The Eagle has long been known as one of the largest if noblest birds of prey. As with reality, so too, fiction: The story mentions the Eagle's immense wingspan, as his exquisite courtesy whilst addressing Padmini. His other name in the story: Wind Rider.
What is especially noteworthy is the Eagle's association with both power and bravery through history. The emblem of the elite U.S. warriors, the Navy SEALS includes an Eagle, as does the U.S. coat of arms/seal. Down the ages, coats of arms of many nations including Germany, Egypt and Indonesia have included the Eagle, in varied versions and species, including two headed, bald etc. Information available also speaks of the elite Indian air force warrior wing called Garuda, a special force unit formed to combat terror.
Going further, into final frontiers, think Lunar module of the 1969 moon mission, and the now immortal words: 'The Eagle has landed'!!